Persian rugs have a variety of types within them, each of which has a different origin, color, and pattern they religiously follow. Some of which have been described below:
Named after the city of Qum, in Iran, they are one of the most significant patrons of weaving, Shah Abbas, was born here. He died in 1628 and buried in the same city. The rugs here have highly dense knots and are mostly made of silk. Such is the luxuriousness of these rugs that you may even find some whose pile wrap is made of pure silk. They offer a wide variety of patterns, gardens, medallions, flowers and so much more. Colors are usually limited to orange, reddish brown, pink or dark blue and turquoise.
Nain is a small town that produces high-quality wool. These are then used to manufacture excellent quality carpets with intricate patterns. Some have plants and animals whereas other models include flowers with entangled branches. Typically, the colors are of light ivory or white, with the branches colored in green or blue. The wool knots and silk threads impeccably highlight the patterns drawn.
These carpets belong to the former capital of Persia, Isfahan. Isfahan carpets are similar to those of Nain in patterns of flowers with tangled branches but with a medallion in between. Some even have hunting scenes and tress. Najafabad, which is a city close to Isfahan, produce similar carpets but the material used for the rugs is usually of cotton.
Carpets from Tabriz, the second largest city in Iran, are of highest quality and can be found in a wide array of sizes. Patterns also come in multiple forms such as floral, hunting scenes, teardrop medallions and many more. The design that is most popular is termed as "Mahi." The rug has a pile made up of either just wool or a mix of wool or silk whereas the warp is of cotton or silk. The antique carpets are quite rare and thus are exceptionally valuable such that they are only present in museums.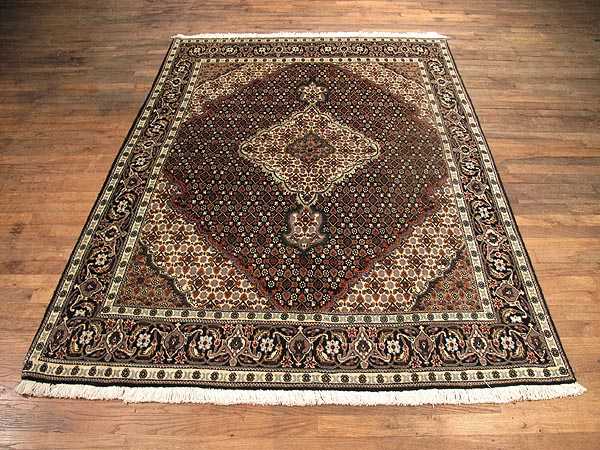 Kashan rugs have two types based on the difference of techniques. The first is the knot technique. One uses the Persian knot whereas the other uses Turkish knot technique to build the carpets. Secondly, Persian knots are applied on unbleached cotton warps while Turkish knots are employed on double silk wraps. Lastly, one with Persian knots use double cotton wefts and the other uses wefts of silk. The standard pattern has the Mehrab and medallions.
There is a tekke tribe that produces Turkoman carpets with wide borders and their patterns have medallions right in the center of the carpets. They follow geometric forms with colors that are limited to dark red, blue and white.
This tribal city in Iran is famous for its elegant weave with tightly ribbed structure. The piles are shorter in comparison to other carpets and only use the Turkish knot technique to make them, since, the Qashqai is originally a Turkish tribe.